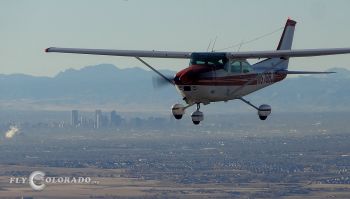 In search of the $100 Hamburger
Often referred to as the aeronautical equivalent of lazy Sunday drive in which the destination isn't as important as the pleasure of getting away... The search for the $100 hamburger can be a great way to spend time with friends and family or to scout out a location for a future trip. Luckily many options exist along the front range of Colorado. We've assembled a list below that should give you a few ideas. Whether it's a taco, burger, or an omelet, ultimately, the $100 hamburger isn't about the food as much as it's about the adventure. Click on the locations on the sidebar below to view airport details:
---
APA  -Centennial Airport

Airnav Airport Information and Maps

The Perfect Landing Restaurant

Located on the 2nd floor of the Denver Jet Center

 

BJC –Rocky Mountain Metropolitan Airport - Broomfield

 

2 Restaurants on the field:

Runway Grille (on the 2nd floor of the Denver Air FBO)

 

(Directly across the street from Denver Air FBO is the Terminal--Inside, you will find the Bistro)

KFTG – Front Range Airport

Aviator Bar and Grill  open Monday through Saturday 11AM-2PM

KCOS – Colorado Springs

Solos Resturaunt: Use crew car from COS jet center or long walk off airport property

The Airplane Restaurant opens daily for lunch at 11:00 am and serves until 9:00 weekdays and 10:00 Friday and Saturday.

KLXV – Leadville

Land at Leadville, the highest elevation airport in North America and the third highest in the world!  At 9927' mountains surround around three sides of the airport. After you land, ask for your free certificate. While no restaurants are on the field, the airport has multiple courtesy cars available to take in to town where plenty of dining options exist. Watch for the density altitude on takeoffs

Airport Website - Click on local attractions to see the different dining options in town

PUB – Pueblo

Pueblo has a restaurant and aircraft museum on the airfield and within easy walking distance of the parking ramps. The Pueblo Weisbrod Aircraft Museum is a combination of the Weisbrod Museum and the International B-24 Memorial Museum, designed to honor the men and women who served during World War II

Aircraft Museum Website

GXY – Greeley – Barnstormers Café

Located on the airfield in the terminal cafe.

LMO - Vance Brand Airport

Flight Deck Grill is a mobile cafe based on the airfield.  They offer breakfast and lunch in a outdoor setting. The menu items consists of good old grilled American food with catchy names. Some of the favorites include the Top Gun Burrito in the morning and the Single Engine Angus Burger or Slurry Bomber Float in the afternoon.

The eatery is open 7:30 - 2:00 Wednesday - Sunday, May through October, and since it is 'Outdoors & In Plane View', it's only open on "VFR" days. Stop by and fuel up while taking in Longmont's best view

Hooper Pool

This is a backcountry airstrip in the San Luis Valley with warm water for soaking and a poolside grille. For detailed info visit the Airport Database page

Craig Moffat Airport (KCAG)

Enjoy lunch or Dinner at the Tin Cup Grill. Arrive by plane and walk across the road to the Yampa Valley Golf Course. The restraunt is located within the golf club. Make a day trip out of it and stay for a 9 or 18 holes of golf. Club rentals available.

KGNB - Granby

Flying into Granby-Grand County Airport guarantees an amazing view, and better yet the airport now offers a Courtesy car (SUV).  This grants visiting pilots access to the nearby town and all it has to offer with enough room to accommodate 5+ people.  In our most recent "drop-in" we ate brunch at the Chuckwagon Café & Bar.  If you like breakfast served all day (along with an additional complete menu) and killer green chile- this is definitely a must!  Between the green chile smothered breakfast scramble and the hand pressed green chile smothered burger and smothered fries you may need a Maule with the extra door and re-run weight and balance.

Remember that this is a mountain airport and has its unique features/hazards, along with the typical density altitude, thunderstorms popping up, mountain wind events, high rising terrain,  etc so careful pre-flight planning and evaluation is mandatory to ensure your flight is safe and wonderful.

 

KSAA - Saratoga, WY

For a longer range food outing, day or overnight trip, consider Saratoga, WY for lunch and a soak. Located roughly 140 nm from Denver:

Food:

There is an Italian restaurant in town called Bella's Bistro which comes highly recommended by fellow pilots.

Bella's Website

 

Hot Springs & Food:

Saratoga Resort and Spa also has two restaurants (the Silver Saddle & Microbrewery), golf course, private hot springs, and lodging for overnight stays. 

Click here for their Website

 

Courtesy Car: Saratoga Inn has 1 or 2 cars parked at the airport to get to their place. Call ahead for instructions. It is around a mile walk/bike.
Centennial

Broomfield

Front Range

Colorado Springs

Leadville

Pueblo

Greeley

Longmont

Hooper Pool

Craig - Moffat Cty

Granby, CO

Saratoga, WY
---
We want to hear from you. Is there a local diner that we didn't mention? Have an update to the list? Please use the form below or e-mail us a info@flycolorado.org to send us an update.