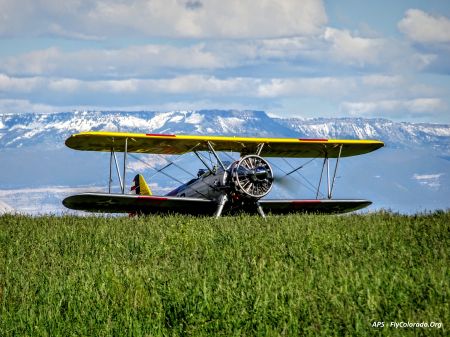 Mack Mesa (CO7) is an airport that is great for all types of pilots & aircraft to experience the joys of airplane camping. It's in a unique area that doesn't require a lot of special equipment and training.
Located roughly 20nm northwest of Grand Junction in Mack, CO, the airport serves as a great camping destination, fuel-stop or base of operationsfor the Moab area, not to mention a wonderful reliever/alternate to Grand JunctionRegional (KGJT). Mack Mesa boasts unique amenities to include an accessible camping area and aircraft parking area in the grass just off the runway complete with fire ring, restroom, drinking water, and even a shower while remaining within cell reception. The airport can also address the needs of your aircraft with limited services and fuel available 24hours, along with a courtesy car to use if necessary. If you don't wish to get your tires dirty there are also paved parking tie-down options available.
Runway 07/25 sits up on a small butte at 4624' msl and dimensions are 2600'x60'. However for the big-tire planes or anyone wishing to land on nice manicured grass a runway extension area of 900' estimated exists prior to the threshold of Runway 25 which is usable for take-offs and landings in either direction. Ensure no obstacles exist prior to landing on the grass.
Some local attractionsinclude but are not limited to: Kokopelli Trail, Colorado National Monument, McGinness Canyons, Arches National Park, Lots of bike trails, Highline and Mack Mesa Lakes, and Grand Mesa. What truly Sets Mack Mesa apart even further are its Owners, Manager, and tenants. You will see a lot of unique and beautiful aircraft on the field and all the people are wonderful to be around. Don't be surprised if manager Ladd Klinglesmith personally comes out to greet and offer any assistance, or a local EAA or other fly-in/barbeque is going on!
For specifics on Mack Mesa please ensure you review any published materials as this is a public-use airport and feel free to call Ladd Klinglesmith at 970-260-0707 (if you can catch him between his own recreational flying fun!) and take advantage of all that Mack Mesa has to offer for all adventure seeking pilots!
10CO
MACK, CO
| | |
| --- | --- |
| Latitude: | 39-16-5.2 N |
| Longitude: | 108-51-50.5 W |
| Elevation: | 4724 ft. |
MANAGER:
LADD KLINGLESMITH
1048 R ROAD
MACK, CO 81525
UNITED STATES
Phone: 970-260-0707
Information Provided by the Airport Manager:

General Airport Info:

APT Website URL: None - Use Airnav.com for fuel prices

Hours Attended: Daylight

Dist to Town: 10 miles

Snow Removal Hours: N/A

Windsock Locale:  SE and NW side of airfield

Transient Acft Parking Locale: Tie downs or Grass on NE side of airport

Tie-downs provided: Yes

APT Webcam URL: N/A

FBO NAME: Mack Mesa

Contact # Ladd 970-260-0707

FBO Website URL: N/A - Use AirNav.com for Fuel Prices

FUEL:

Fuel Hours: 24/7

Service Type: SS

Payment: Credit Card

Fuel TypeAvail: 100LL

Cash Payment Discount: N/A
Additional:

Courtesy Car: Yes

Keys Located: Contact FBO Manager -Ladd 970-260-0707

Car Hours Avail: Anytime

Pilot Lounge: Unknown
WiFi Avail: Unknown

Password: Unknown

Computer Avail: Unknown

FBO Restroom: Yes

Overnight Parking Fee: None

Facility/Lndg Fee: None

Cell Phone Reception at airfield: Yes - All major carriers

Landline / Courtesy Phone Avail: No

Preferred calm wind RWY: No - Pilots discretion

Noise Abatement procedures: None

Long Term Rental Car Avail: Not at airport
Local Taxi (car shuttle): unknown

Runway Data:
At a glance:
RWY HDG: 07/25
Dimensions: 2600 ft. x 60 ft.
More information coming soon
Weather at Nearby Grand Junction (KGJT)
Under Construction:
Camping and Recreational Activites near the airport
Camping Allowed on-field: Yes 

Camping Location: NE side of airport

Camping Amenities: Fire ring, Restroom and shower

H20 Location:
Campfire allowed: Yes

Drinking H20 Avail Yes

Restroom: Yes

Restaurant on Field: Yes

Within Walking distance: No

Nearby Breakfast Recommendations: Strayhorn Grill

Nearby Lunch/Dinner Recomendations: Strayhorn Grill

Economy Lodging Recommendations: Fruita, Colorado

Mid-Range Lodging Recommendations: Fruita, Colorado

Resort / Destination Lodging: Fruita, Colorado

Local Attractions: Kokopelli trail, Colorado National Monument, McGinness canyons, Arches National Park, Lots of bike trails, Highline and Mack Mesa Lakes, Grand Mesa,