Durango, CO

Durango is an authentic Colorado town with endless opportunities for year-round recreation, a rich history, and a promising future. Tucked away in the southwest corner of Colorado, where the San Juan Mountains meet the arid Colorado Plateau, Durango, elevation 6,500 feet, serves as the geographic and cultural link between high desert and high country.
Born as a railroad town more than a century ago, Durango draws thousands of visitors to its world-class attraction, the Durango and Silverton Narrow Gauge Railroad.  Colorado's most famous train has been operating since 1881.  In all that time, its route has never varied:  up the Rio de las Animas Perdidas (the River of Lost Souls), through 45 miles of mountains and San Juan National forest wilderness to the historic mining town of Silverton and back.  The coal-fired steam locomotive makes the 3,000-foot climb past relics of mining and railroad activity from the last century.  In the summer, the ride takes 3 ¼ hours each way with a 2-hour stopover in Silverton before heading back.
Multisport adventurers have plenty of options in Durango including rafting the canyons of the Animas River which winds through town, climbing the East Animas sandstone, fly-fishing, hiking, or riding the varied terrain and myriad mountain-biking trails of the San Juan National Forest.  In the winter, head 25 miles north to Durango Mountain Resort, formerly known as Purgatory, to ski on 1,360 acres with 84 trails serviced by eleven lifts.  With an annual snowfall of 260 inches and terrain for all skill levels, the resort has a reputation of having more sunshine than any other Colorado ski area.  The ski resort is open year- round with a long list of recreational pursuits to explore.
Durango's historic downtown offers exciting dining establishments, shopping, and live entertainment. Most visitors are surprised to learn that Durango is a foodie paradise with as many restaurants per capita as San Francisco. Even though Durango exudes a small-town feeling, it is home to fine community arts and theatre programs and a multitude of music festivals. From blues to bluegrass and classical to country, you will find a variety of venues in Durango. The presence of Fort Lewis College, a four-year liberal arts-based school, lends an additional cultural boost and a lively youthful spirit to the area.
Durango has become one of the West's best places to live boasting an economic mix of agriculture, industry and tourism. The discerning factor that sets Durango apart from other popular mountain towns is its commitment to protecting the quality of life.  Hang around town and you will quickly discover a thriving community energized about life in America's premier outdoor hub.
Airport Manager Report: Animas Air Park (00C)



General Airport Info:
APT Website URL: FBO - Use Airnav.com for fuel prices

Hours Attended: 8A-5P

Dist to Town: 3.5 miles

Snow Removal Hours: N/A

Windsock Locale:  Midfield - East side of airfield

Transient Acft Parking Locale: At the FBO - located midfield on the East side of rwy

Tie-downs provided: Yes

APT Webcam URL: N/A

FBO NAME: Gregg Flying Service

Contact # 970-247-4632

FBO Website URL: Phillips 66 FBO Info

FUEL:

Fuel Hours: 8A-5P (contact FBO for other hours)

Service Type: FS

Payment: Credit Card & Cash

Fuel TypeAvail: 100LL

Cash Payment Discount: N/A
Additional:

Courtesy Car: Yes

Keys Located: Contact FBO

Car Hours Avail: Day Use only - limited to in town

Pilot Lounge: Unknown
WiFi Avail: Unknown

Password: Unknown

Computer Avail: Unknown

FBO Restroom: Yes

Overnight Parking Fee: $5.00

Facility/Lndg Fee: None

Cell Phone Reception at airfield: Yes - All major carriers

Landline / Courtesy Phone Avail: Yes @ FBO

Preferred calm wind RWY: Land RWY 01, Take off RWY 19

Noise Abatement procedures: Avoid over flying the homes on east side of river to the southeast on airstrip

Long Term Rental Car Avail: Avis 970-247-9761 Call this number direct for airport rental they are only one mile away
Enterprise 970-375-7831 also close by

Local Taxi (car shuttle): Animas Transportation 970-259-1315
Runway Info - Animas Air Park (00C)
Elev: 6684' MSL
RWY HDG: 01 / 19
Surface: Asphalt
Dimensions: 5010 x 50 ft.
Lights: Yes (MIRL)
Remarks:
RWY 1 has 200' drop-off 120' from threshold.
RWY 19 end has 150' gravel surface beyond runway end.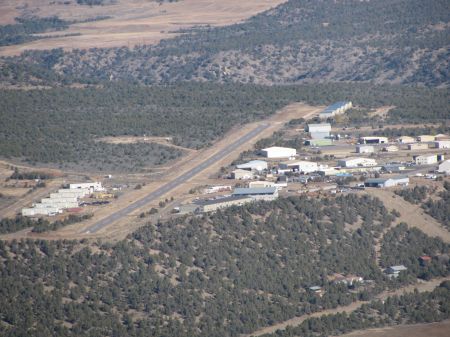 Weather at Nearby Durango La Plata Airport (KDRO)
CDOT: Durango Mountain Resort - Looking North
Durango - In town at the intersection of:
Hesperus (West of Durango)
Durango Mountain Resort
From the Airport Manager at (00C):
Camping and Recreational Activites near the airport
Camping Allowed on-field: Yes 

Camping Location: Contact the FBO for specified location

Camping Amenities: None

H20 Location: FBO

Campfire allowed: No

Drinking H20 Avail Yes

Restroom: Yes

Restaurant on Field: No

Within Walking distance: No

Nearby Breakfast Recommendations: Carvers Brew Pub

Nearby Lunch/Dinner Recomendations: Old Timers

Economy Lodging Recommendations: Days End 800-242-3297

Mid-Range Lodging Recommendations: Rio Grande Best Western 800-245-4466

Resort / Destination Lodging: Strater Hotel 970-247-4431 (FBO has special rate)
Local Attractions:
-Durango is the home of the world famous Narrow Gauge Rail Road.
-Supported by the western town of Durango with shops accommodations and restaurants all with in ten walkable blocks.
-Mesa Verde National Park is an easy drive and a most see day trip

-Camping, Fishing in the adjacent Animas River, Back Packing in the San Juan Mtns, Extraordinary Mountain biking trails all direct from your airplane