Mountain Flying Basics
Fly Colorado.Org reccommends that pilots who are unfamaliar with mountain flying (or need a refresher) take the course offered by the Colorado Pilots Association and find an experienced mountain/backcountry flight instructor for practical application in the airplane you'll be flying.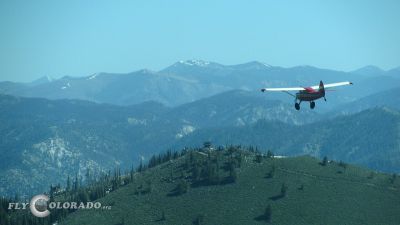 Excerpt from C.P.A.:
Flying the Colorado Rockies, with more than 50 mountain peaks exceeding 14,000 feet, and into more than a dozen public-use airports located near the communities and recreational areas located there, can be an exhilarating experience. But it can also be a hazardous experience for those unaware of the unique weather related variables encountered in mountain flight and the effects on aircraft performance. In Colorado, accident statistics show that pilots without the proper training and skills needed for safe flight over mountainous terrain often get themselves into situations which are beyond their capability to handle. The mountain flying course is a program developed by the Colorado Pilots Association to improve that capability.
 The CDOT - Division of Aeronuatics also provides tips for Mountain Flying in Colorado in their Airport Directory.
FAA Mountain Flying training film:
FAA Mountain Flying training film Part 1/3
FAA Mountain Flying training film Part 2/3
FAA Mountain Flying training film Part 3/3

The Idaho Dept. of Aviation's video has information that is applicable to Colorado:

Flying Idaho Part 1/2
Flying Idaho Part 2/2
FAA Mountain Flying Tips
FAA Aviation News magazine mountain flying issue